2021 Virtual ILC Award Sessions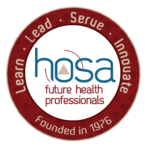 HOSA-Future Health Professionals is a global student-led organization, whose mission is to promote career opportunities in the health industry and to enhance the delivery of quality health care to all people.
HOSA is a viable solution to health industry shortages. HOSA Advisors globally are promoting the health professions and ensuring that future health professionals are prepared for college and their health profession of choice.
HOSA is pleased to share the 2021 Spring eMagazine. We want to thank the states and chapters that contributed articles and photos for this edition.
Learn More »
A NEW event has been added for VILC 2021! The Family Medicine Career Test sponsored by the American Academy of Family Physicians will be available
Learn More »
April is Parliamentary Law Month. NAP is inviting all NAP student members, youth groups and partnership organization members, and non-NAP parliamentary youth groups whose members
Learn More »