CAN YOU SEE
YOURSELF HERE?
New Event - Family Medicine Test
HOSA's Virtual International Leadership Conference
Leadership Initiatives &
HOSA Partnership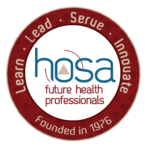 HOSA-Future Health Professionals is a global student-led organization, whose mission is to promote career opportunities in the health industry and to enhance the delivery of quality health care to all people.
HOSA is a viable solution to health industry shortages. HOSA Advisors globally are promoting the health professions and ensuring that future health professionals are prepared for college and their health profession of choice.
A NEW event has been added for VILC 2021! The Family Medicine Career Test sponsored by the American Academy of Family Physicians will be available
Learn More »
April is Parliamentary Law Month. NAP is inviting all NAP student members, youth groups and partnership organization members, and non-NAP parliamentary youth groups whose members
Learn More »
LJ Pasion, Eastern Region Vice President, represented HOSA-Future Health Professionals in National Geographic Learning's Virtual Learning Series Bringing the World into the Classroom, The Need
Learn More »